International Business Builder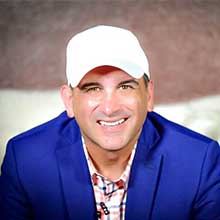 Ricardo Jimenez is married with 5 children, and he has built a team of over 22,000 promoters and 140,000 customers.

Before Network Marketing:
I was a manager at a home improvement store and a part-time photographer. My highest level of education was high school. My Old Annual Income was $25,000.

The Old Me:
I didn't have the easiest path. I was born and raised in Puerto Rico and immigrated to the U.S. to start a new life. I was living paycheck to paycheck, trying to figure out if I should pay the electricity bill or the water bill. I was always in a bad mood and had zero time for my family. My low point was when I found myself struggling with addiction and in trouble with the law. I didn't see hope for myself, and I wasn't being the husband or father I was meant to be.

Looking for It or Found Me? Found Me
Friends had approached me over the years, but I had never thought there was money in Network Marketing, so I wasn't looking for it or open to it at first.

How I Heard of Network Marketing:
I had a friend who was in a coffee business, and he was chasing me all the time wanting me to go to a meeting. I was not interested. Sometimes he would knock on my door and I wouldn't answer. Finally, broke and looking to make some extra money, I decided to go to a meeting. When I heard that it's better to get 1% of 1 million than 100% of my own effort, and that I could earn real residual income, I was sold. I knew I had to change if I wanted to live my purpose and be a good role model for my children. I recognized this profession could give me the tools to turn my life around and make a contribution to the world.

Year One in My Biz:
I sponsored 80 people. I made many mistakes and was not duplicating the simple system.

Year Two in My Biz:
I sponsored 100 people and grew my personal performance by learning the skill of inviting.

Year Three in My Biz:
I sponsored 45 people. I was traveling to Mexico and not building as much that year.

Year Four in My Biz:
I sponsored 100 people. I hit massive duplication, and today my team is in 3 countries.

Who I've Become:
Personal development changed my life for the better. I can now duplicate leadership. Understanding the relationship aspect of the business made me understand people, and now I enjoy helping others. Because I Said Yes, I Now:
The blessings have been awesome; thank goodness I said YES.
I've helped my brothers create businesses for themselves.
I retired my mom.
I created college funds for my sons.
I bought the home of my dreams.

Cherry on Top Moments:
I have traveled to all the states in Mexico and many other countries around the world. I get to spend much-needed time with my boys. My biggest dream was to take them to school every day, and now that is possible.

From One Leader to Another:
I had such a rough background, but if I could turn my life around with this profession, anyone can. It's about how disciplined you are, not how smart you are. My life has changed drastically thanks to the Network Marketing profession, and my goal is to tell you that you can have a better way.