From Working Third Shift at a Jelly Factory to Multi-Millionaire Entrepreneur, Wife and Mother of 4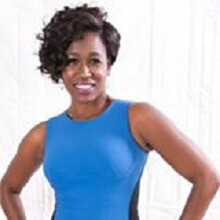 Raised in Orange Park, FL in a middle-class working home along her brother and sister, Tiffaney Malott grew up in a loving and encouraging environment. "My mother was my idol and my father was my best friend. They always, always believed in us and told us that we could do anything we put our minds to," recalls Tiffaney. She went on to college and the Air Force and then in a jelly factory on third shift. But a fateful conversation with her father turned destiny around for this now multi-millionaire entrepreneur, wife and mother of 4.

"My mom picked cotton growing up and my dad came from the projects. Our parents gave us their all and I really work hard in their honor. My dad died 14 years ago and unfortunately my parents didn't live out a lot of their dreams. My dad ALWAYS worked. After retirement he received half a paycheck. He continued working in spite of his health and eventually passed on. Prior to, he planted a seed in me, suggesting that there was a better way to make a six-figures, a better way to spend time with family and have more in life. He told me that I didn't have to be stuck in a factory on 3rd shift making jelly until retirement. Almost exactly two years to the date of that conversation, I got introduced to the network marketing industry.

"Transitioning from a 9-5 to business to network marketing was a shift. My first hurdle was realizing that people don't work for you. The only person that works for you is you. I used to be a supervisor so I was stuck to the idea that people had to do what I said. Now, instead of employing people, I attract people. My husband and I both reached a six figure income in our first company and that's huge coming from an ex-jelly maker and ex-janitor! We have now helped 14 people earn six-figures in the last 21 months. My husband and I earned $1.2 million last year.

"30 Days to a Better You came about when I was hosting a women's event and wanted to give a gift to the guests. So I made a pamphlet of a 30-day journal to track their success. Afterwards, I started getting calls from ladies that wanted to do the 30-day journal with their daughters, their mothers, and their book clubs. I just got inundated with requests. Then my husband brought it to my attention that I had 'writing a book' on my dream board. We published 2000 copies and they were literally gone in 6 weeks... For the busy person that has a lot on their plate or on their mind, the book serves as that little piece to the puzzle they need to get their life in order.

"I am most proud of my blended-multicultural family. I have 3 step-daughters and a biracial daughter of my own. My husband being white, we had to deal with some ridicule for our choice to be together. As hard as a blended family can be, it's worth it. Love sees no color. In our own little way, I hope we shed some light on the world that it's not about what you see, but what you don't see that matters.

"I have a few things on my bucket list. We want to go on an African safari, do a genealogy search of our family tree and travel to the Dead Sea! Right now, our favorite place to travel is our villa on the Sea of Cortez in Mexico. Soon, I will re-launch my talk show and start a leadership and coaching company where I can give 100% of the proceeds to charity."